Trees were uprooted, homes and businesses were damaged, and millions of people were without power in the wake of a derecho event on Friday, June 29.
If you haven't heard this term before, a derecho is a widespread, long-lived wind storm that is associated with a band of rapidly moving showers or thunderstorms, with the damage typically directed in one direction along a relatively straight swath. By definition, if the wind damage swath extends more than 240 miles and includes wind gusts of at least 58 mph or greater along most of its length, then the event may be classified as a derecho. The event on June 29 met these criteria, and then some.
The derecho began as morning thunderstorms moved out of the Chicago area and into northwestern Indiana, where warm and very unstable air was present. The first severe thunderstorm watch was issued just before noon EDT for northeastern Illinois and the northern half of Indiana. Three more severe thunderstorm watches were issued during the day and night from Ohio to the mid-Atlantic coast.
By the time the storms moved out into the Atlantic about 2:00 a.m. EDT Saturday, an estimated 4 million people were without power, 3 million in the mid-Atlantic region alone. More than 660,000 were left without power in Ohio, and 188,00 in Indiana. In Ft. Wayne, Indiana, 95 percent of the distribution circuits were knocked out by the storms. There were ten fatalities attributed to the storms.
This image of the progression of the derecho is courtesy of NOAA's NWS Storm Prediction Center.
Follow this link to view a video of radar images along the path of the derecho as it progressed east.
At the time of this writing more than 600 reports of damaging winds had been logged for the derecho.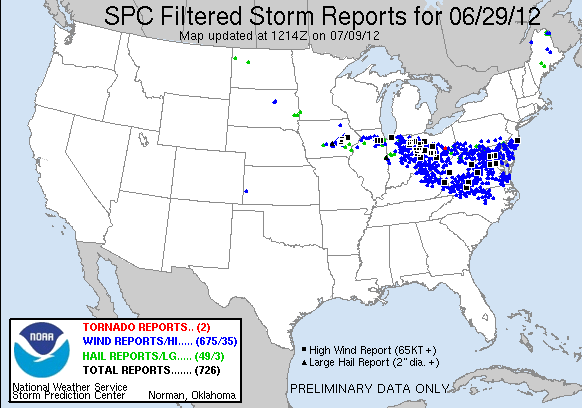 Some of the more impressive reports:
| | |
| --- | --- |
| Wind Gust (knots/mph) | Location |
| | |
| 91/105 | Fort Wayne, IN airport |
| 87/100 | Wintergreen, VA |
| 84/97 | Paulding, OH |
| 81/93 | Roanoke, VA airport |
| 81/93 | Tuckerton, NJ |
| 80/92 | Dayton, OH airport |
| 80/92 | Franklin, WV |
| 80/92 | Fredericksburg, VA |
CoCoRaHS observers submitted 29 Significant Weather Reports on Friday. No doubt the time of the storms in the east (late at night) along with power and Internet outages cut down on the number of reports. Here is a report from one CoCoRaHS observer in Ohio:
Station Number: OH-FR-24
Station Name: Columbus 9.3 NNE
Date: 6/29/2012 4:00 PM
Submitted 6/30/2012 6:40 AM
Notes: Very High winds with a thunderstorm est. at 80 MPH gusts 6-8 inch limbs down in my area, In the metro area large outdoor advertising signs folded in two like it was slammed into. Never seen damage like this before
People affected by the storms not only have to cope with the damage, but they are suffering through oppressive heat and humidity without air conditioning. High temperatures on Saturday were in the low to upper 90s throughout the storm-impacted areas. The heat wave is expected to continue through the week, and officials think it could be the end of the week before most power is restored in Maryland and Virginia.
You can read more about derechos at the Storm Prediction Center web site.
Origin and Evolution of the Term "Derecho" as a Severe Weather Event